Training is one of the primary ways that SIL facilitates language development in the Pacific. It helps to build capacity in local communities and supports the establishment of sustainable language development programs.
SIL offers training in a variety of language development activities such as linguistics, translation, literacy and multilingual education. The training takes into account the educational levels of participants and aims to strengthen the capacity of local people to engage effectively in these disciplines. Training strategies in the Pacific are based on the philosophy that community ownership and the involvement of local institutions is critical for planning and implementation of language development activities.
Training in the Pacific is available in a number of different formats. Much of the training for members of local language communities is conducted in rural village contexts in workshops or on the job. In some countries regular classroom training is also offered at training centres, for example the Pacific Institute of Language, Arts and Translation (PILAT) in PNG. SIL also offers academic training at the higher education level, in conjunction with several educational institutions in the Pacific.
Formal Training
SIL Australia provides accredited training at graduate and undergraduate levels for literacy and translation specialists.
Community Training 
SIL staff provide appropriate training and mentoring to empower local communities to achieve their development goals in literacy, Bible translation, technology and health issues.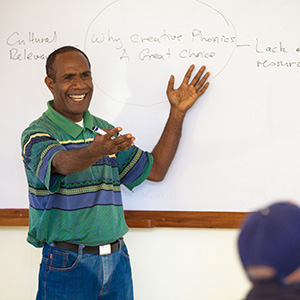 PILAT
The Pacific Institute of Language, Arts & Translation (PILAT) in PNG provides a wide variety of training courses in a Melanesian context.